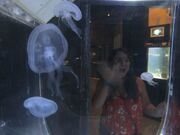 Hey, everyone! I'm Racheal! I'm a Creative Writing Major with a minor in French and a part-time Librarian. I'm also a Daisy Girl Scout Leader and theatre junkie.
My Favorties!
Edit
Favorite Stories: Spellbinder, Soulmate, Black Dawn
Favorite Couples: Thea and Eric, Maggie and Delos, Poppy and James
Favorite Characters: Aradia, Grandma Harman, Ash
As a fellow North Carolinian, I feel a connection to Illiana as well.
Other Stuff
Edit
If I were a part of the Night World I would want to be a witch. I feel like they have the most freedom and the witches are my favorite characters.
Many people assume that, if I'm a creative writing major, I want to write books. This is not true. I love writing my own stories, but I want to write for television. Maybe even adapt Night World into a sucessful program!
Community content is available under
CC-BY-SA
unless otherwise noted.